Thermostat Repair in Buda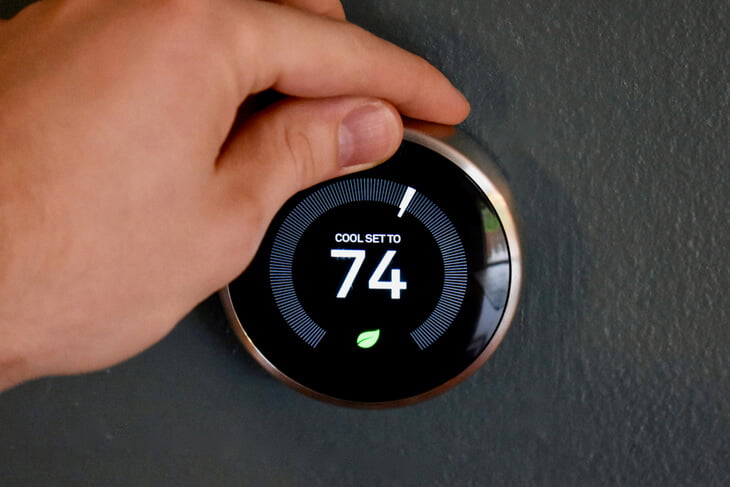 The primary function of a thermostat is to regulate temperature automatically. As the brain of your HVAC system, your thermostat deserves attention and care. This is why you need to ensure your thermostat is fully functional and helping to improve energy efficiency at home.
If you have a somewhat dated thermostat, it may no longer be compatible with newer HVAC systems or perform optimally to keep conserving energy. It may be time for an upgrade.
Whatever your thermostat-related concerns, whether it's related to installation or repair services, Cool Kings will happily deliver.
Schedule affordable thermostat repair by calling us at 512-318-7212 or fill out our online form to schedule an appointment today.
The Best Thermostat Repair
Is your old thermostat acting up? Is it no longer compatible with your new HVAC system? Do you want an energy-efficient home?
Most older thermostat models are no longer compatible with new HVAC units and are not designed to conserve energy optimally. Thus, switching from a dated thermostat to a more modern smart thermostat may benefit you in the long term.
Smart thermostats collect energy use data, providing you valuable insights into your energy consumption patterns. With a smart thermostat, you have full control of home temperature. It allows you to program it to conserve energy, thereby saving on your electricity bills.
Another significant advantage of smart thermostats is that you can exercise temperature control at home remotely. You can sync it with your smartphone or tablet over the internet. So, even when you're away from home, you can control temperature settings and determine the best times for turning your AC on or off. There are even high-tech models that send alarms or notifications when there's a maintenance concern, such as dirty coils, blocked air filters, and the like.
Upgrading to a better thermostat unit is easy with Cool Kings. We'll work with you to determine the best one that's tailored to your space, heating and cooling system, and other factors.
Schedule affordable thermostat repair by calling us at 512-318-7212 or fill out our online form to schedule an appointment today.
Smart Home Thermostat Installation
Are you gradually converting your home into a smart one? If so, congratulations!
Smart home thermostats are designed to provide superior performance to satisfy your family's heating and cooling requirements and ensure your home is energy-efficient. This translates to lower energy consumption and energy bills.
If you need assistance in selecting a high-performance smart home thermostat that's suitable for your home heating and cooling needs, trust Cool Kings to help.
Our experienced, skilled, and knowledgeable HVAC technicians will expertly guide you in your thermostat buying decisions. We'll talk about the pros and cons of each alternative so you can make an informed decision.
For reliable and systematic thermostat installation and smart thermostat service, call Cool Kings at 512-318-7212 or fill out our online form to schedule an appointment today.
Thermostat Installation/Upgrade
If you don't think there's a need to replace your current thermostat, but instead requires some repair or programming work, reach out to the Cool Kings team.
Our professional technicians will assess and check your thermostat to identify the issue. Some of the most common problems concerning thermostats include:
Connection or wiring problems

Continuous heating and cooling system cycles

Inconsistent heating or cooling in certain sections of the home

It won't power up
If you encounter any of these problems or if you observe that your thermostat is no longer working the way it used to, call Cool Kings.
Your thermostat might only need a bit of cleaning. If it requires more substantial repair work, our technicians will let you know and get it fixed right away.